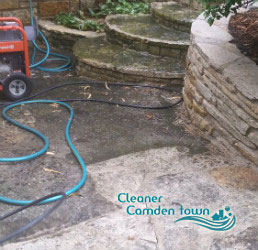 Where cleaning patios is concerned, usually our agency is involved. We have been occupied with patio cleaning in Camden Town NW1 for many years. Our main goal is to bring back the shine to your outdoor house areas.
We use high-quality pressure washers thanks to which hardened dirt and grime as well as algae and moss can be removed from the surface and improve the look of your patio. We work from Monday to Sunday.
Any day is the perfect day to call us and get a service. We promise to do things right. Get in touch with us.
Pressure Cleaning in Camden Town

Price

Patio Cleaning

from £3

£

2.5sq/m

Jet Washing

from £3

£

2.5sq/m
Professional Patio Cleaning Camden Town
It's no secret that our patio cleaning service in Camden Town strives to get maximum results. It is really powerful thanks to our special equipment. We are prepared to get your outdoor hard surfaces sparkling.
Additional information:
You can book an appointment from the comfort of your own home
Our technicians pass liability and background checks
We work 7 days a week
You can get more details about us over the phone
Our call centre functions 24 hours a day
Fill the form for a free quote!

Pressure Washing NW1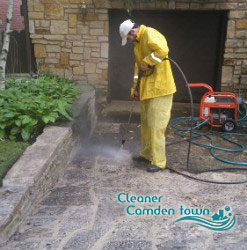 We are an experienced patio cleaning provider in Camden Town. We have operated this area for many years. We have a group of loyal and return customers. We are also looking to attract the attention of more people. We have worked really hard throughout this time and we can give you the results you long for.
Our equipment is water-based and it uses high pressure. The machines we operate with are called pressure washers. They are ideal for cleaning hard surfaces and they come in very handy for sprucing up your patios and driveways.
We are aware how they function and we can use them safely. Not to worry, your outdoor area will be in safe hands. We will make sure it looks at its best.
Put your trust in us. We will do our best to meet each and every demand. We can be reached every day, no matter the time. Feel free to ask all your questions via our call centre. We won't let you down.